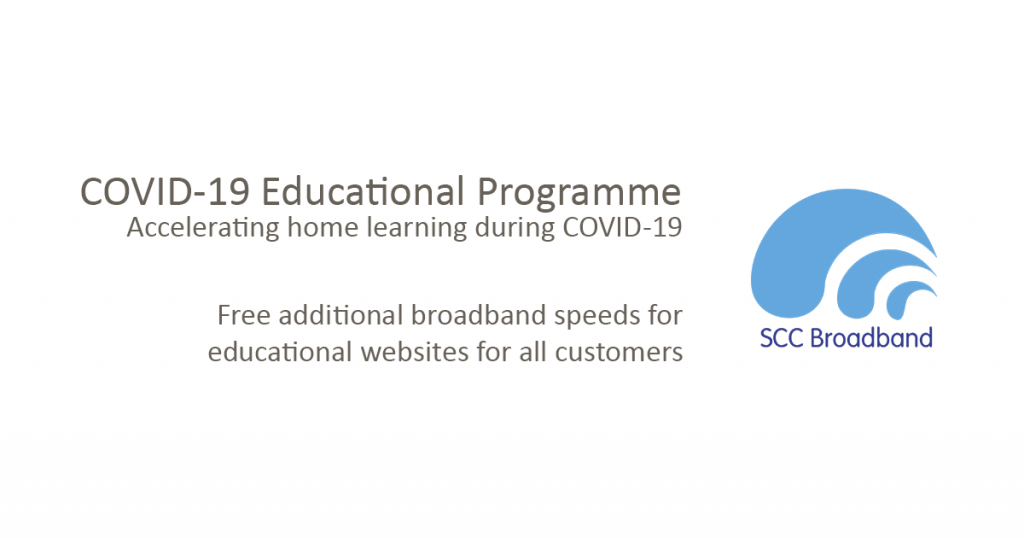 Last Update: 25/02/2021 14:06
We are making every effort to provide targeted additional bandwidth for our customers who require access to prescribed educational platforms, as provided by Primary and Secondary schools and any formal systems provided by the Dept. of Education for the duration of school closures. We are also taking efforts to include third level educational platforms on a second wave, which we will tackle shortly.
We would appreciate if school officials would come forward to advise on which additional resources may need to be assigned for additional bandwidth, so that we can ensure that heavily used home-broadband connections are providing sufficient resources for children to continue their educational path unaffected, at such a critical time in their lives.
We would advice households to use a common sense approach and prioritise broadband connections for educational uses, turn off that TV and Netflix and plan for designated learning time so that children are learning with a good routine and in a structured manner. Homes which are streaming vast amounts of TV streaming data may cause unintentional interruptions during educational activities outside of the prescribed list of sites below, so somebody please think of the children!
This list will grow as we receive official information, however we have taken efforts to provide additional bandwidth for each home connection for the following websites:
General
studyclix.ie
irevise.com
haveyougotmathseyes.com
nessy.com
learn.nessy.com
mathsisfun.com
twinkl.ie
Most of Microsoft AS8075 (to include Office365, Teams, Stream)
edmodo.com
blackboard.com AS35156
Irish Educational Institutions and Schools
kenmarecs.com
kenmarecs.myschoolwise.com
stjohnskenmare.ie
sneemschool.com
cahirschool.ie
colaistenasceilge.ie
idp.scoilnet.ie
accounts.scoilnet.ie
scoilnet.ie (HEAnet)
brightspace.ucd.ie
UCD AS2850
TCD – Trinity College Dublin (HEAnet)
UL – University of Limerick (HEAnet)
DCU – Dublin City University (HEAnet)
UCG – University College, Galway (HEAnet)
UCC – University College Cork (HEAnet)
DIT – Dublin Institute of Technology (HEAnet)
ITC – Institute of Technology Carlow (HEAnet)
Maynooth University (HEAnet)
CIT – Cork Institute of Technology (HEAnet)
The Dublin Institute for Advanced Studies (HEAnet)
HEAnet (various other IP prefixes managed by HEAnet)
We are discovering additional resources which may be used, and we will continue to grow the above list as times goes on, so please check back for updates.
If you know of other official school resources that children are using, please ask your local school to get in contact with SCC Broadband via [email protected] and we will take every effort to provide additional bandwidth for those websites.
What does all of this mean?
If you access any of the above websites, your broadband package will not limit you to the typical speed limits of the selected package, so your children can access these websites with a bit of extra speed, above what you are typically allocated.